😊 Thanks for reading my blog. If you find it useful or entertaining, do you mind sharing this post with one other person who might enjoy it too? 😊
Have you ever been accosted by one of those hyper-enthusiastic volunteers, trying to get you to donate to their charitable cause?
You know the ones ...
... you can see them from a mile away as you walk down the street. They're waiting for you, armed with a huge grin .... ready to pounce.
You avert your gaze, praying that they won't notice you.
When you do get near them, you squint at your phone in a desperate attempt to avoid the inevitable pitch?
It's an awful experience, isn't it?
I always feel ambivalent in those situations.
Annoyed because … well … it's an assault … but guilty (for feeling annoyed), because they're (usually) promoting a good cause.
Well, as it turns out, circumstances required me to be one of the said "accosters" last Saturday!
Let me explain ...
We were trying to promote the Carbon Almanac and were shooting for a world record for the most book signings, worldwide, within a 24-hour period.
What started off as a handful of us 6 months ago, led by Seth Godin, had grown into a powerful movement with 1900 people across 90 countries!
I was feeling particularly noble, and the cause was worthy.
I was moved to venture into "the dark side" .... and become one of the said "accosters of innocent passers-by"
There I was, with my buddy Andrew, (another accoster who'd been suitably moved by the cause, as I'd been) standing outside a bookstore in a crowded Sydney suburb, grinning fiercely at unsuspecting victims, as they scurried past ... cringing, and squinting equally fiercely at their phones.
We were armed with an array of sketch pens of various colors, and the only two books available in Sydney (due to supply chain issues) for people to sign on the front covers and on the pages.
In addition to developing a newfound respect for salespeople (and accosters) of all kinds, I learned a few things about life and business.
Here's what I learned:
Rejection is almost never personal, so
choose

not to take it (rejection) personally:
Standing on the street, trying to get people's attention, as 90% of them ignore you, and walk right past, is a great way to train your mind

not

to take rejection personally.
Most people are too busy finding their own way in the world and don't care about what you have to offer. They won't listen to that sentence you've carefully constructed ....

unless

you can figure out how to tell them what's in it for them in ONE soundbite (more on this later)
But here's the good news: You don't need most people. You only need 10% … who

will

stop to listen ....

provided you persist, and you keep testing.
You can learn to split test sales copy in real-time on the sidewalk.
We tried split testing different scripts. Here's how those scripts evolved into a collection of words that worked most effectively.:

"Would you like to sign the carbon almanac? It's for the environment" (that one fell on deaf ears)
"Would you like to join us in breaking a world record for the most signings?" (They didn't seem interested because none of those words addressed the "what's in it for me" question adequately)
"We're not selling anything we just want your signature!" (That one really freaked them out because they thought they were being hustled or scammed into signing their lives away. They ran for the hills!)
"Come and sign the Carbon Almanac it only takes a second and it's for the climate" (Better … at this point, we realized that the word "climate" was important)
"World-record signing for the climate. Would you like to join us?" (This got a much better response rate. People heard the words world-record and climate together. That seemed to capture their attention enough for them to look in our direction)
"World-record signing for the climate. Sign in your favorite color?" (This was the slam dunk! The words "world-record", "climate" and "sign in your favorite color" hit the mark probably because "world record" was intriguing; "climate" is something most humans with more than one neuron care deeply about; and "sign in your favorite color" added an element of choice. These three factors solved the "what's in it for me" problem effectively)
Split testing in real-time is a very valuable skill in business
and

life


Because you're going to do it a lot if you're a business owner. You need to split test:
Sales copy,
Landing pages
Price points
Offers (a combination of the above)
and a whole lot more.

When you make offers in real-time, you get

immediate

feedback and you can "sharpen" your "copy" on the fly.

It's exhilarating.
If you don't like selling, you should probably enroll in a charity drive.
This is important for 2 reasons:
You learn not to take rejection personally by focusing on the

process

rather than the outcome
Further to the above point, you learn to take the focus off yourself and pay attention to the person you're trying to influence.
Now I have a question for you (two questions actually):
Have you been accosted by a charity worker?
Have you accosted innocent passers-by (for charitable reasons)?
What was your experience like? (okay three questions)
I'd love to know.
Tell me about it in the comments 😊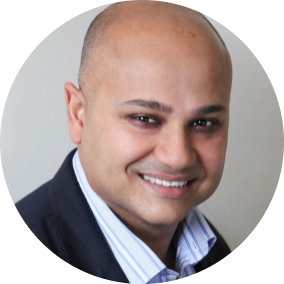 Ash Roy
Ash Roy has spent over 15 years working in the corporate world as a financial and strategic analyst and advisor to large multinational banks and telecommunications companies. He suffered through a CPA in 1997 and completed it despite not liking it at all because he believed it was a valuable skill to have. He sacrificed his personality in the process. In 2004 he finished his MBA (Masters In Business Administration) from the Australian Graduate School of Management and loved it! He scored a distinction (average) and got his personality back too!