uilding Meaningful Connections on LinkedIn for Consultants and Coaches
Why LinkedIn?
How does an entrepreneur, a coach, or a consultant use LinkedIn to win high-value clients?
How do you invite your prospects to connect with you on LinkedIn without being annoying and spammy?
How important is it to have a good LinkedIn profile that prospects can check out when deciding whether or not to connect with you on LinkedIn?
When should you pitch or offer your product or service to prospects and how to nurture the connection?
We spoke with Adam Franklin of bluewiremedia.com.au on how to utilize LinkedIn as a marketing and networking tool for your business.
Adam Franklin is the author of Web Marketing That Works and Amazon no.1 seller. He is a professional speaker, a university lecturer, and CEO of Bluewire Media.
Click here to find out more.
You may also want to visit the Productive Insights website and join our growing community of business owners!
Links Mentioned
Related Episodes
Ash Roy and Adam Franklin Video Transcript (This transcript has been auto-generated. Artificial Intelligence is still in the process of perfecting itself. There may be some errors in transcription):
Transcription
Ash Roy 0:00
Hi, this is Ash Roy. Thanks for tuning into the productive insights podcast or the productive insights YouTube channel. This is episode 217, which is the first part of a two-part series with my friend and colleague Adam Franklin, in which Adam shares his five step framework to use LinkedIn for business growth. I thought this was an absolute masterclass. You're going to access this first part of the two-part conversation@productiveinsights.com forward slash 2 1 7. And the second part of this two-part conversation will be published@productiveinsights.com slash 2 1 8. So thanks again for tuning in, and I hope you find it useful.
Ash Roy 0:43
Welcome back to the productive insights podcast. This is Ash Roy the founder of productive insights.com and the host of the productive insights podcast. Today, we are going to show you how to build longterm relationships with individuals on LinkedIn, mutually beneficial relationships that you can nurture and convert into high quality and high value clients. And we're going to discuss some high level strategies and specific tactics that you can implement right after this episode to help me today, I'm delighted to welcome Adam Franklin Adams, a good friend of mine, and he's the author of web marketing that works and Amazon number one bestseller, he's holding up there. So you might want to check that out. He's a professional speaker, a university lecturer and CEO of blue wire media, which he co-founded in 2005 accolades include being named Australia's number one, business blog, number seven, LinkedIn expert in Asia Pacific, and his podcast was number nine on entrepreneur magazine's top marketing podcasts. Adam's work has been featured in Forbes, Huffington post entrepreneur, the Australian and the Sydney morning Herald. Adam helps consultants win high value clients via LinkedIn and teachers, thousands of students all over the world via his online courses and coaching programs. His weekly blue wire news email goes out to over 35,000 professionals worldwide. So I'm delighted to welcome my friend, Adam Franklin onto the productive insights podcast. Welcome Adam.
Adam Franklin 2:18
It is so wonderful to be here. Thanks for that very kind introduction. And it's so good to finally be doing this, this podcast that we spoke about on many occasions and our calendars have aligned. So let's jump straight into it.
Ash Roy 2:30
I'm so glad to have you I've been hounding you about this for a long time. I, I was worried I was being a bit of a pain, but by asking you over and over again, but man, it's really a pleasure to have you. I remember when we first met, I don't know if you remember this, but you were speaking at an event in, I think there wasn't a basement in the city. This was years ago and I went up to you and I bought you a drink. And I tried to learn more about what you do. I was at the beginning of my journey and I think you were too, at that time, you were doing a lot more than LinkedIn. And then I remember once we worked together in Bondai cafe with Tobes your co-founder at the time, wow, how times have changed. And we've both come so far over these years. So it's been a pleasure watching you evolve over the years. And I'd love to get you to tell our audience a little bit about your journey and how you ended up becoming a LinkedIn expert.
Adam Franklin 3:27
Fantastic. Let's go through all of that. And I remember it vividly actually, it was actually part of my book launch, as I recall, in 2014 in that event, in the basement in the Sydney CBD. And I actually think he might've won my lucky door prize. I think I a call you winning a bottle of wine that was from a business card drawer, but I could be wrong, but let's go right back to the start. You mentioned that Toby was my co-founder when we started, he's been one of my best mates. Since, since grade one, we went to primary school and high school and uni together a lovely story. But look, we started a business. It was called blue wire media. And it still is. That was nearly 17 years ago now at the time of recording, but we had always wanted to run a business and we wanted to run. Like we wanted to focus on the business and marketing side of things as opposed to necessarily being a technician in the business. So we were heavily influenced by the likes of the books, rich dad, poor dad and the E-Myth and mentors like Miko Hagan from mini movers. And so what we did is we started a digital agency, even though we were non-technical people because we wanted to sell, we wanted to do the marketing. And then when we want a client, we wanted a specialist to do the technical work. And so that's how we started. We literally walked around the streets in Brisbane, knocking on doors in the womb, Brisbane summer asking these business owners, do you want a website to which they said, no, thanks mate. There's the door.
Adam Franklin 5:08
That's how we got, we got pretty used to rejection. We got pretty used to walking around in the hot sweaty sun, but you know what, after a while we thought, well, how can we actually improve this process? What do we need to be doing differently? And rather than walking around in the sun, we thought, well, there's these magazines in Brisbane called the Brisbane news. And in it, people would advertise. Many of the people advertising didn't have a website URL on their Advair. And we thought if they've got enough money to be paying thousands of dollars for an advert, but don't have a website, then they would be hopefully an ideal prospect because one, they could afford a website and two, they didn't have one yet. And so we changed our focus to cold calling instead of doing knocking. And we cold called these people out of the Brisbane news and offered them the opportunity to see what a web site might look like in terms of like a mock-up, if they were prepared to have us in, to meet with them. So that's what led to our first clients. We showed them the mock-up and we said, look, we can build this for you if you like, and this is what it's going to cost. And the first client eventually said, yes. So we, that was when the business started you a couple of weeks of not panning the pavement cold-calling paper. We went up as time.
Ash Roy 6:32
Amazing moment when the first client says, yes, isn't it. I bet you still remember it.
Adam Franklin 6:36
Oh, I've totally remembered. We received a check. We, we took a photocopy of it at the time before we banked it.
Ash Roy 6:45
A couple of, couple of good mates from when you were schoolmates to getting your first check together well done.
Adam Franklin 6:51
It was really exciting, but we told ourselves at the time, you know, if we can do it once we can sell things many times over. And that first one was probably the hardest sale. And it all got easier from there not to say it's always been easy. There's been challenges of course, but that, that kicked off the agency then to fast forward, we, we shared everything we had learned in our book, web marketing that works, that came out about eight years after we started the agency. When this book came out, we stopped the agency side of things because we found that much more rewarding and energizing to do the consulting and speaking around digital marketing. And that sort of kicked off about 10 years doing conference speaking, keynote speeches, all around Australia and the world. And then I made the decision to focus blue wire to become a coaching business. And that's what I focused on for the last two and a half years.
Ash Roy 7:48
Look pretty pivotal to your conversion from what you were doing before to
Adam Franklin 7:53
The consulting. 100%, we were doing consulting, a liquid, started doing consulting when the book came out, but we completely transitioned to doing that exclusive
Ash Roy 8:03
Quick question about the book thing. A lot of people told me to write a book and I'm thinking every man and his dog is writing a book. Would you still recommend writing a book to build authority
Adam Franklin 8:14
Today? 100%, the reason it feels like every man and his dog has a book is because you interview or authority guests on your podcast. Of course they've got books.
Ash Roy 8:25
Yeah. And a lot of them tell me a lot, then tell me why haven't you written a book yet? I'm like, is that really going to make that much of a difference, but okay.
Adam Franklin 8:33
I believe it did for me. And I can only speak for myself, but it did for me. And you're interacting with a very small subset of the business community that had, that has a book can set on your, your show. But if you talk to, I guess, a much wider, realistic sample size, most people don't have a book. I mean, for me personally, when the book came out, it meant that the speaking fee doubled.
Adam Franklin 8:57
Yeah, quite literally as the book, because I was an author conference, organizers and speaker bureaus were like, oh, well, that's fair enough to be charging that. Then you're an author. And at the section of authority, because you are an author is huge and same deal for the consulting and coaching. A lot of credibility,
Ash Roy 9:13
The most interesting conversations I've had on this podcast. Well, with very prolific authors episode 200 was with Seth Godin. And he's written a ton of books, episode 210 was with guy Kawasaki and he's written 19, I think. And then episode 215 was with David Meerman Scott and he's written 13 or something like that. He's written a bunch of books.
Adam Franklin 9:35
Yeah. Those three offers are some of the most influential authors in my personal journey have learnt so much from particularly David Meerman, Scott and Seth Goden. But yeah, Geico, Saki as well,
Ash Roy 9:45
Amazing conversations, amazing people. I was really honored to have them on as I am to have you on
Ash Roy 9:52
Adam, let's talk about strategy. How does a person who wants to get LinkedIn working for them in a way that is non spammy and that isn't interrupting people in a way that is a rude, how does a person build relationships with their ideal prospects on LinkedIn with a view to eventually converting them into clients and building mutually beneficial relationships.
Adam Franklin 10:23
And let's first address the elephant in the room. And that is, I don't want to be that annoying spammy guy on LinkedIn. I've been on the receiving end of it. It's hideous. I definitely don't want to do that. That's what I would think. 99% of your listeners would be feeling that's what 99% of my audience feels. And it's the most important roadblock to overcome before we can even really open our mind to what a LinkedIn strategy can, can do that
Ash Roy 10:52
People perceive spam differently. So there's that problem as well,
Adam Franklin 10:56
A hundred percent, a hundred percent. And look, this the span by its literal definition and that, you know, they're sending something like via email or adding them to your mailing list without their consent and sending them stuff that they haven't opted in for that's illegal. And that would never recommend that the, the softer definition of spam is basically anything that they feel is not relevant to them right now.
Ash Roy 11:20
And there's the challenge. How do you exactly. So how do you figure out what is relevant to them before you email them or message them on LinkedIn?
Adam Franklin 11:31
And look, you can't know for sure for everything. And I give this example in my workshops, if I was to receive a message from a fridge repair person, I would ignore that. And I would treat that as spam because it's not relevant to me today. 52, sorry, 51 weeks of the year, when my fridge breaks down and all my food's going warm and I need a fridge repair person, when that message comes in that week, it's like, okay, you've read my mind. I need you to come around now. And so you just never quite know exactly when the pain or their aspiration is going to be high enough for them to be ready to take action. And so I believe we need to be showing up on a regular basis from a place of generosity, not a place of, of hounding them. And we can talk more about the strategies that we employ there. But I also like to draw the comparison to real life. Like everything we do on LinkedIn should just be a reflection of real life and how we interact with people. Now, you and I have both been to business events and networking events and being in a large room with lots of business owners or professionals or whatever your target market might be. We've all been in that position. And when we've gone into a room like that, and we haven't known anybody, most of us are quite comfortable going up to a stranger and introducing themselves and saying, hi, Ash, my name's Adam, it's nice to meet you. That's exactly what we did at that event where we first crossed paths. If you or I were worried, I don't, I'm too afraid to talk to this person in case he thinks that I'm going to sell him something and be spammy. We would never have become connected. We would never have become friends. We'd never be doing this interview. Now. Absolutely. Every friend, every client, every person we know was once a stranger. So if somebody isn't prepared to introduce themselves first, it's going to be a very lonely existence. No friends, no clients. And that's not a, that's not a world I want to live in personally, which then begs the question. Well, what do I do? How do I do this in a way that sits comfortably with me and doesn't rub people the wrong way. And the other additional thing with when we do meet someone in real life, very rarely never happened in my experience that once we have introduced ourselves, I've never come across a situation where that person doesn't know what to say next, or we don't know what to say next. We never just go, hi Ash. It's nice to meet you. And then go quiet and not say anything else because I scared of what.
Ash Roy 14:17
I just want to jump in there for a second and tell you, I just remembered in episode 1 73, I spoke to a guy from digital marketer. He doesn't work with them anymore, but he used to be at digital marketer and he was a LinkedIn guy. And we talked about the party analogy. If it's not something you would go and say to somebody at a party, it's probably not something you'd want to say to them on LinkedIn. Right? So you don't go up to somebody at a party, shake their hand and say, hi, I'm Ash. And I've got this membership to sell you. Would you be interested in buying it? That's not the first thing you would say. You would say, hi, I'm Ash, what's your name? Or what brings you here? Or something like that. Unfortunately, a lot of us are guilty of doing the former thing that I just said rather than the latter. So that's a great analogy.
Adam Franklin 15:06
So the party analogy is, is exactly right. I mean, you're, you're introducing yourself to strangers. You're not immediately saying, Hey, I've got a membership program or a coaching program. I want to sell you. You're having a natural human conversation. But at the same time, you are open to the fact that if they seem like a person that you can help, if the conversation goes down that path, then it's totally okay to say, Hey, this sounds like something we could have a more detailed discussion about. Would you like to swap details? And I'll contact you either via email or I'll give you a call. When w when you're back at the office, that is a natural thing to happen in a party or a social setting. We very rarely sell in the social setting, but very often we, you know, typically in the olden days, it would be exchanged business cards or connect on LinkedIn, or send them an email there, and then saying, it's nice to meet you. Let's line up our calendars. And we'll talk more about it later. And it's that same approach that I encourage people to apply to LinkedIn.
Ash Roy 16:13
Let's talk a bit about how do you set up your profile so that it showcases your skills in a way that is relevant to your ideal prospect. And then what is that first message you send? If you can tell us what words does one use that that works, and that is acceptable, that will be super useful to our listeners and viewers on YouTube.
Adam Franklin 16:37
Fantastic. Let's start with the outreach message since I'm sure that's probably the burning question on a lot of people's minds. Often the mistake, I guess, is that people can overthink this initial outreach message. This is just the same as when you meet somebody new at a party. We normally just say, hi, Ash, I'm Adam. It's nice to meet you on LinkedIn. I wouldn't normally say hi, Ash. Like if you're a stranger, I wouldn't say hi, Ash, I'm Adam. I've been stalking your Instagram, LinkedIn, and website for months. And I know that you went to school here and you wrote this article there, and that's too much and too creepy and too heavy handed. I say, hi, I'm Adam. Nice to meet you on LinkedIn. I would probably say, hi, Ash. I'd like to invite you to connect. She is Adam. I'd like to invite you to my marketing network. Cheers, Adam. I'd like to invite you to my professional network. She is Adam, something very simple.
Ash Roy 17:36
And those messages, very pedestrian and they use very commonly.
Adam Franklin 17:41
Yes they are. And when I've tested these things out, I've tested, you know, doing a bit more research on their and saying, hi, Ashley. I noticed that you interviewed Seth Godin in episode 270. That's really awesome. You know, that will be flattering, of course. And my new, hopefully connect with a lot of people that said that, but you don't need to go to that level of personalization. In fact, it performs better when it's just not totally, it's not totally generic because I'm calling you Ash and I'm inviting you either to my marketing network or my consulting network, or my Sydney or Australia network.
Adam Franklin 18:22
It's just Emile. It's real life. Like nearly everybody I meet, I say, hello, nice to meet shave my name's Adam. Most people say that, and that doesn't make it bad because we all say the same thing. So now you've sent that first message and they've accepted well, they haven't yet.
Adam Franklin 18:42
We hope they connect, which begs the question. What can we do to increase our chances of that person accepting our connection request. And that comes down to our LinkedIn profile, which was the second part of the question. So there are hundreds of millions of people on LinkedIn. Some have some, a trustworthy, some have high authority, some are random, some are spammy PayPal. There's a whole bunch of people out there. And people have to determine in a split second, when they're looking at their connection invites, who looks like a nice, reputable, trustworthy, meaningful person, and who looks like 99% of people who aren't going to be relevant to me in my business. And so we've got to convey that quite quickly. And we've basically got our head shot, our name, our headline, and sometimes our about section to convey that. And so that's why it's so important to have a well written well optimized LinkedIn profile, because that's what makes the difference between people going, yep. I'll connect with Ash or I won't and taking the time to convey what you do and to convey credibility and to make it focused also on, you know, your client or who you help. So they go, oh, look, Ash helps people just like me. Right. And he's got credibility because he's got his podcast and because he's got his business. So yeah, there's all these things that we need to try and weave into the couple of hundred characters for our headline, because that's, that's the difference. That'll make the difference between like a 20%, 10% acceptance, right. And a 30 or 40% acceptance rate on the LinkedIn connection requests, 220 characters at the time of recording. Bear in mind that it often does get truncated or shortened, depending on what device they're looking at it on. So put your most important stuff at the front. So yeah, that will hopefully increase the chance of people accepting. And then we've got that first degree contact, right? That's where most people go, you know what? I don't know what to say. Next I'm tongue tied. I completely don't want to spam or annoy this person. So I'm just now not going to say anything for the next five or 10 years,
Ash Roy 21:04
Five or 10 years. I love it.
Adam Franklin 21:06
Yeah, it's true though. Right? There's 70 contacts that we've connected with and not contacted for 10 years.
Ash Roy 21:13
I've got over 3000 contacts on LinkedIn right now. I don't say much to them.
Adam Franklin 21:21
And imagine if we'd met in 2014, I said, nice to meet you, Ash. Yeah, you too, Adam, neither of us know what to say and say, let's wait 10 years until we build up the courage to say the next thing
Ash Roy 21:33
We'll be having a second sentence exchange in order be now 2021. So in another three years time,
Adam Franklin 21:41
Exactly. That's a bit too long between drugs tonight. I'd rather prefer to allow, allow her relationship to evolve and blossom, but it takes somebody to say the next piece of the conversation. And we both acknowledged that most people are too afraid to take that next step,
Adam Franklin 22:01
but that there's too much value in too much opportunity and friendships on the table to neglect that and leave it up to the other person, which is why those with I say the word courage. And I'm not saying it flippantly because most people are afraid to say their first, send the first message and start the conversation. Even though it seems so easy when you think about it in real life, for some reason, when we're going through a keyboard and it's a stranger on LinkedIn, we're paralyzed by fear. So the people that do have the courage to make that first start, that first conversation, there's lots of reward. Therefore then. So I guess we're probably going to look at what, what should we even say in this first message? There's lots of different approaches here.
Ash Roy 22:47
Now the second message. Right? So this is after the invitation and they've accepted,
Adam Franklin 22:53
Correct? Yes. Got it. Yep. So I'm going to take talk you through sort of the five step nurture process step. Yeah. Step one. We've just spoken about, and that is connecting with somebody. Okay. The sole objective of that is to get them to accept our connection request. And then once they are a first degree contact, well, that's, that's fantastic because not only can we DM them, direct message them, but they are also going to see we'll have a chance of seeing our content in their newsfeed. So they talk about content later and is how you can really amplify that or authority and being top of mind. The other good thing about being a first degree contacts, is it more often than not? You will have their email address visible to you through their profile that, that available to their first degree contacts. So we can very easily. And I do recommend this strategy strongly is to move from a LinkedIn relationship over to an email relationship. Whether you're sending this message via LinkedIn or email, doesn't really matter. I tend to send this initial message on LinkedIn and I transitioned to email a bit further down the track, but let's look at a few different options that I suggest sending stage to the conversation starter. I categorize it in two sections. One is like dormant versus worry contacts. Those are the people that we've not spoken to for five or 10 years, but they've been in our network. And that situation by literally suggests sending something like, hi Ash, we've been connected on hate for ages, but I've never actually said hello. That's why I'm writing to you today. I'd love to learn a bit more about productive insights and who you serve. And when you've got time, as for me, I run a marketing coaching business. Let's keep in touch.
Ash Roy 24:49
Okay. So that's nice and soft. So you, you're saying I'd love to learn more about your company and by the way, this is what I do, but not too much about what you do. It's all about other person.
Adam Franklin 24:59
Yeah. It's mostly about the other person, but you are putting a bit of meat on the bone. You are putting a bit into the conversation, like in a real conversation, you both, you both contribute a little bit and you're acknowledging like the company name, like, you know, just saying, Hey Ash, tell me about your business. You go, well, mate, you can see my LinkedIn profile. It's all here. Why don't you just click the button and read it? If you want
Ash Roy 25:20
To. That's what stops me from often asking them that
Adam Franklin 25:23
Question. It's got to be framed in a way that is like, acknowledging that I have actually looked at your page. That's why I would say congrats on what you've been doing. It productive insights. I'd love to learn a bit more about your business and who you work with or who you help.
Ash Roy 25:37
It's subtle, but important thing that I didn't think about before. So you'd acknowledge something about their profile. And then you say, I would like to learn a little bit more about you.
Adam Franklin 25:48
That's a very useful approach because I mean, most people like talking about themselves. Most people don't like LinkedIn because people are just selling stuff, but you can stand out and be part of that 1% or less. If you show an interest    interest in them, you'd often just look for something on their site, in your situation. And I didn't know you, I might say I congrats on what you've been building it, productive insights.com. I'd love to learn a bit more about your podcasts and specifically the types of guests that you would love to interview. Maybe there's an introduction I could make because I've been involved in marketing and I've run my own podcast. Would this be of interest? Well, let's keep in touch trying to frame it in a way where you can add value to them in a appropriate way. This is like predominant connection as well. So is this somebody who's been in your first year in network for years, but you've never really spoken to properly, but you've demonstrated you've done a little bit of research. There's also dormant context. Now email is too. We do actually know quite well. Like maybe they'd been a client, but 10 years ago. And these are the people that are the best, what I call the low hanging fruit, because you know, we've both been in business for quite some time. There are people that we've worked with 10 years ago that we may not have worked with since. So these are a great opportunity to reconnect with. So I would go through what I do with my clients is getting them to go through their, their CRM or their list of past proposals. People that have either said no, or maybe so the prospects, clients that have said yes, but you know, maybe aren't active and write to them and say, Hey Ash, it's been a long time since we've crossed paths. I can't believe it's been 10 years since we did that project together in the basement and the CBD what's been going on with you as for me, my focus these days is on LinkedIn. So there's a high degree of trust already. They know like, and trust you because they've worked with you in the past, their situation might've changed. In fact, they might even be at any company, right. Started a new company and my focus has changed. So we're reconnecting. And often in those situations, people will say, oh, you know what? I was just thinking about LinkedIn, or just thinking about you. And you've shown up in my inbox. LinkedIn is something that we need to focus on. So when we're talking about this, there's dormant contacts who we have never contacted. And then there's dormant contacts who we actually know quite well. So clients and prospects, who we might've worked with 10 years ago or who we might've presented a proposal to 10 years ago, but they said no. Or maybe. So these are people that actually do know like, and trust you to some degree. So these are what I call the low, the low hanging fruit. And this is often where you'll get your quickest wins is by getting a list of either from your CRM or wherever you've been tracking in a spreadsheet or a notepad of all the past clients over the last 10 years or the past prospects of people that have said no, or maybe looking up on LinkedIn, finding out either, are they already in my network probably. And then messaging them and saying, Ash, I can't believe it's been 10 years since we did that project together in the basement at that event that we did and where we met, how's everything been going for you? I see you've been doing productive insights and the podcast, as for me, I've been focusing on LinkedIn, right? It's good to reconnect
Ash Roy 29:22
A really useful tool. I want to jump in there and add actually to useful tools. The best CRM I've come across so far is HubSpot. And it's free full disclosure. I am a HubSpot solutions certified partner. If you want to know about the pay products, talk to me, but the free version is brilliant. And the other tool wanted to mention was text expander. So text expander is essentially a tool where you can create your own shortcuts. So I might have, for example, X, L N, which is short for X, LinkedIn, and I use X as the first letter, because it's not a very common beginning of any word. And it's a keyboard shortcut basically. And that expands into a whole message where I can actually fill in a form. So it's got a form filling function. So it actually brings up this form on my screen, which I can just plug in the name, Adam, I can plug in the company name and the rest of it is all automated. So it might say, Hey Adam, I just had a look at your profile. I noticed that you're working in blue wire media these days, as for me, I'm working on the productive insights podcast. I'd love to know a little bit more about what you're doing or something along those lines, but basically you can templatize every one of your messages. And HubSpot also has template functionality in their outreach messages, but that's not within the LinkedIn platform. That's on HubSpot, but text expander works across all platforms and it works on PCs and on Mac,
Adam Franklin 30:54
Brilliant tip. I love text expand up or the equivalent. I use keyboard shortcuts and you have tip of putting, putting the X at the start is so good because at the moment miner, if it's LinkedIn messages, I've got L one L two L three L four L five for the different frameworks for this nurture system on Facebook, I've got F1 F two F three. If they join my Facebook group, except the thing is sometimes they and Q1, Q2 Q3, for questions, I asked, you know, if I'm Kevin conversations, but often it, I don't know, it must be F1 or like the, some that or V1, particularly I need to change V1 for them open doing version one of something. And it just pre-populates with version of one of my questions, they'll put the X in front.
Ash Roy 31:40
I'll tell you why I don't use that. Nomenclature is because text expander syncs across your Mac and your iPhone and your iPad and all your devices. And if I use letters and numbers, it means I have to change my screens on the iPhone because the number screen, the number keypad is on a different thing to the text. So it's a lot more efficient to have it all as letters and using X as a great prefix. And then you can, I have my own thing in my head where I might put in the name of the product and then the name of something else. And I have my own structure of creating these shortcuts. You can also search and text expander based on keyword and stuff. So it's super useful text expander.com,
Adam Franklin 32:31
Right? And you make a good point too, like you have templates saved. And like, I know a lot of people are sometimes a bit resistant to why would I send that a canned response to everybody? And I don't want to be sending canned responses because it's impersonal and it's this and that. And I hate receiving them. But the thing is, most of these frameworks are 80 or 90% the same when you change the part that makes it personal. So I could send that framework to a hundred people, but for you, I would say, hi Ash, I see a congrats on what you've been doing, productive insights. I can't believe it's been 10 years since we crossed paths. Yeah. That Sydney event, that's the framework. 90% of it's the same. But for each person it's personalized with something that pretty much only you. And I would know like where we first met.
Ash Roy 33:24
And that's where text expander is incredible because of its form-filling capability
Adam Franklin 33:29
A hundred percent. And so you don't need to reinvent the wheel each time because you've got these script frameworks. Yeah. You literally just
Ash Roy 33:36
Popping the name, the first name, the company name, and it just does the rest for
Adam Franklin 33:40
That's perfect. And then you've got, you can run your IRA, make sure that it all makes sense, which it would, but that's the thing with like having a script framework is that there's a structure to it. It's deliberate yet. It's still personalized. Okay. That's the balance we want to get. It's something that 80 to 90% of the same, and that's just a starting point. Like the conversation can then go up to all these different tangents, right? I'm not saying every message needs to come directly out of the script library. These are just for the different stages.
Ash Roy 34:15
I hope you found that conversation useful. The second part of this conversation will be published@productiveinsights.com forward slash 2, 1 8. We will be continuing the discussion around how to use LinkedIn to grow your business using Adam Franklins five step framework. Thanks. And I'll talk to you.
Transcribed by https://grain.co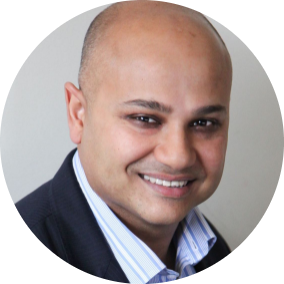 Ash Roy
Ash Roy has spent over 15 years working in the corporate world as a financial and strategic analyst and advisor to large multinational banks and telecommunications companies. He suffered through a CPA in 1997 and completed it despite not liking it at all because he believed it was a valuable skill to have. He sacrificed his personality in the process. In 2004 he finished his MBA (Masters In Business Administration) from the Australian Graduate School of Management and loved it! He scored a distinction (average) and got his personality back too!