Imagine this: You're sitting in front of your computer without a keyboard. That's right. No keyboard!
You control the computer using just your voice. You use your voice to launch applications, open emails, send emails, surf the web and just about anything else you can dream up.
Pretty cool huh?
Well Dragon Dictate can just about do all of it.
I mean, I do use my keyboard from time to time but that's largely due to force of habit. Sure there are some things that are just quicker using the keyboard because I'm also addicted to keyboard shortcuts. I use keyboard shortcuts for my Mac and also for Excel on my PC.
But when it comes to typing long bodies of text e.g. writing an email or preparing a draft for my next book – Dragon Dictate just rocks!
Dragon Dictate is an awesome piece of voice to text software created by Nuance Technologies and can potentially save you HOURS of effort in typing by converting your voice into text with amazing accuracy!
For those who "hunt and peck" at their keyboards this application can prove to be an invaluable asset. The key here is to take a mindful approach to interacting with your computer. Training your brain to use the Dragon Dictate option over the keyboard is a critical first step.
Key features of Dragon Dictate:
Work Fast & More Accurately: Create documents including emails and reports, and surf the internet with over 90% accuracy. Accomplish more on your computer than ever before.
Reduce strain on your body: Using Dragon software will dramatically reduce strain on your eyes, wrists, hands, neck, back, and entire body.
Be More Productive than Ever: Capture your thoughts on the go using a Nuance approved Digital Voice Recorder and Dragon Dictate 3 will transcribe the recorded audio files when you connect to your Mac. Or use the Dragon Remote Mic App that turns your iPhone, iPad or iPod touch into a wireless microphone for use with Dragon on your Mac. The Dragon Remote Mic App is available FREE of charge from the iTunes App store.
To see dragon dictate in action click on this video link .
Be the greatest Dictator of all time with Dragon Dictate!
If you found this useful please share it with your friends on Facebook, twitter, linkedin or google+ by clicking on the "share" button on the right just below this post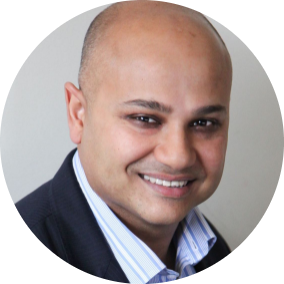 Ash Roy
Ash Roy has spent over 15 years working in the corporate world as a financial and strategic analyst and advisor to large multinational banks and telecommunications companies. He suffered through a CPA in 1997 and completed it despite not liking it at all because he believed it was a valuable skill to have. He sacrificed his personality in the process. In 2004 he finished his MBA (Masters In Business Administration) from the Australian Graduate School of Management and loved it! He scored a distinction (average) and got his personality back too!