5 Ways To Repurpose Podcast Episodes And Deliver Awesome Value To A Wider Audience
Related Episodes:
073.

Darren Rowse — Problogger Founder — Shares His Secrets Around Prolific Content

074.

Darren Rowse (Problogger) Shares His Blogging Success Secrets (Part 2 of 2)
Repurposing Podcast Content
Why is it important to consider repurposing your podcast content and converting it to other forms of content?
It will allow your business expand its reach.

It will help you increase your influence in the market.
5 Ways to repurpose your podcast episodes and convert it to other forms of content and deliver awesome value to a wider audience
Convert your content to a downloadable PDF

– You can use Beacon.dy. If they find your content valuable and interesting, they love to own a piece of that content in the form of a PDF.

It works like this: When your audience arrives at a specific podcast episode on your website and likes the content, then up comes a popup appears asking for their email, in exchange for a downloadable PDF — a fair exchange of value. You build your email list and they get something valuable to take away.
Transcribe your podcast

– You can use Rev.com or Trint.com. T

his is a good way to repurpose your podcast to a written form that can be included in your PDF download. (Note that Trint uses machine learning, so it isn't as accurate as Rev.)
Create an Infographic

– You can use Piktochart or Easel.ly for this.

This actually gives people a different way to absorb your content. Infographics allow your audience to look at the content with a more 'lateral' perspective. Kinda like looking at a mindmap.
Youtube

– You can use Screenflow or Camtasia to turn the audio into video.

There are different ways you can consider in doing this. One, you might want different images for every 5 seconds to make it more visually interesting. You could just have a static image for the whole episode but that's a bit boring for a viewer. That said, a lot of people do go to YouTube just to 'listen' to content rather than view it.
Convert it to Blogpost

– Make use of your transcript to break it down to a more easier to read content. Make sure you use good quality subheads to make the content scannable — think of your subheads as 'windows to the soul' of your content.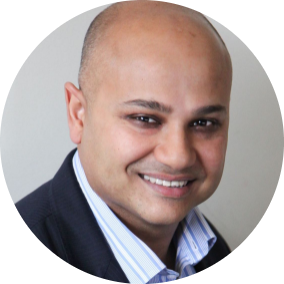 Ash Roy
Ash Roy has spent over 15 years working in the corporate world as a financial and strategic analyst and advisor to large multinational banks and telecommunications companies. He suffered through a CPA in 1997 and completed it despite not liking it at all because he believed it was a valuable skill to have. He sacrificed his personality in the process. In 2004 he finished his MBA (Masters In Business Administration) from the Australian Graduate School of Management and loved it! He scored a distinction (average) and got his personality back too!