Harvard Asst. Professor of Psychiatry — Dr. Srini Pillay — On The Power Of The Unfocused Mind and Productivity – Part 2 of 2
Today I have a very special guest Dr. Srini Pillay — an Assistant Professor of Psychiatry at the Harvard Medical School. He is known for combining the head and the heart (literally and figuratively) in an approach to personal development and goal mastery that blends science, spirituality to combat the stresses by high-achieving people in academia, in business and in life. Now, Srini has a talent for translating fairly complex principles around medicine and Psychiatry into a pedestrian in everyday language. That's is one of his many skills. He's the author of quite a few books, the most recent one of which is called Tinker Dabble Doodle Try which is all about unlocking the power of the unfocused mind.
Srini Pillay | Productive Insights" width="250″ height="250″ />
Key Points and Insights
3:29 – Why intuition and creative thinking have becoming increasingly important in recent years
7:51 – How to use Self Connection (and self-awareness) to harness the power of the unfocused mind
10:09 – Clarity and why it's important
15:07 – Why you need to develop your psychological Core – your mental Six Pack
18:08 – Visioning and the role it plays in setting a clear direction
20:33 – Action steps and Key points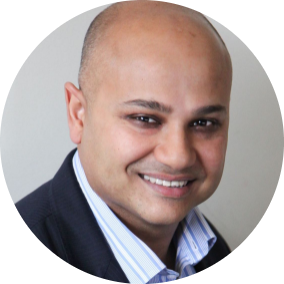 Ash Roy
Ash Roy has spent over 15 years working in the corporate world as a financial and strategic analyst and advisor to large multinational banks and telecommunications companies. He suffered through a CPA in 1997 and completed it despite not liking it at all because he believed it was a valuable skill to have. He sacrificed his personality in the process. In 2004 he finished his MBA (Masters In Business Administration) from the Australian Graduate School of Management and loved it! He scored a distinction (average) and got his personality back too!